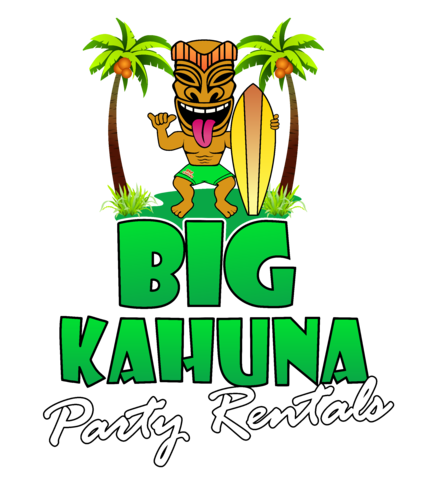 About Big Kahuna Rentals Inc.
Welcome to Big Kahuna Rentals, your ultimate destination for all things party-related in Central New York and its surrounding areas (Syracuse, Camillus, Cicero, Fayetteville, Manlius, Baldwinsville, Jamesville, Dewitt, Liverpool, Central Square, etc…). With a successful legacy since 2015, we pride ourselves on being your premier one-stop shop for all your party rentals and inflatable needs.

Specializing in crafting unforgettable experiences, we cater to a diverse range of events, including weddings, large gatherings, glamping getaways, outdoor movie theaters, graduation parties, and children's parties. Our extensive inventory boasts a captivating array of inflatable games, bounce-n-slides, tents, tables, chairs, and more. We've mastered the art of turning ordinary moments into extraordinary memories.
Book With Us Online
From the moment we opened our doors, our commitment to excellence has shone through. Our exceptional Google star-rating reflects our dedication to delivering top-tier service. We're honored to have a loyal base of recurring clients who have trusted us time and again to bring their visions to life.

At the heart of our ethos lies a profound focus on safety and convenience. We don't just rent equipment; we install it for you, ensuring everything is set up to perfection. Our innovative package deals make planning for significant events a breeze, helping you save while experiencing the very best.

Our dedication to outstanding customer service is what sets us apart. We understand that unpredictability is part and parcel of event planning. That's why we offer a flexible weather policy, allowing you to adapt to unforeseen circumstances without worry.

In present day we've made numerous investments to streamline your experience, we've embraced automation in our business operations. From reservations to delivery routes, receipts, and we've harnessed technology to ensure your journey with us is seamless and stress-free.

At Big Kahuna Rentals, the spotlight is on you. Join us in creating moments that matter, events that linger in memories, and experiences that go beyond expectations. Welcome to the heart of celebration!