Bounce House Rentals in Syracuse NY
Why settle for a humdrum party when you can have the best bounce house rentals in Syracuse NY with Big Kahuna Party Rentals? We're the undisputed kings of bounce house rentals and we're here to make your upcoming event an unforgettable experience! Got a kid's birthday on the horizon? Planning a block party that needs an extra dash of excitement? Look no further, party planners—Big Kahuna has the bounce house magic that'll make your event the talk of Syracuse, New York .
Hold onto your party hats because our range of bounce houses is as vast as the Syracuse skies. From colorful castles that make you feel like royalty to obstacle courses that'll ignite the competitor in you, our selection is second to none. In addition, safety is our middle name. All our bounce houses undergo rigorous checks to ensure they're just as safe as they are exhilarating. With our bounce house rentals in Syracuse NY, your kiddos will be in the air, but your worries will be grounded!
Don't break a sweat over the setup, either. Our skilled team swoops in to handle all the heavy lifting. Before you can say "Big Kahuna," we'll have your chosen bounce house inflated and ready for action. And when the fun's over, we're just as swift at packing things up. It's like having your very own party pit crew! Our delighted customers and their 5-star reviews are a testament to our unparalleled services and selections. Check out all the awesome bounce house rentals in Syracuse NY we offer on our website, and you'll see why our team is the go-to choice for bounce-tastic fun in Syracuse, NY. Ready, set, BOUNCE!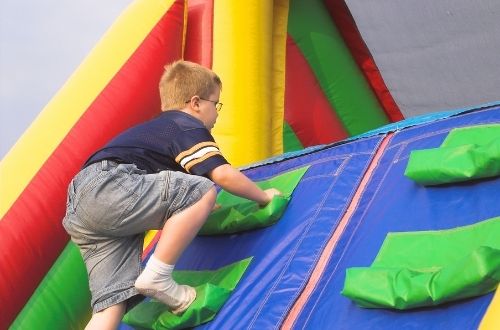 Bounce House Syracuse NY Rentals that are Perfect for Every Event
Who says our bounce house Syracuse NY rentals are just for kiddie parties? At Big Kahuna Party Rentals, we firmly believe that bounce houses are a one-size-fits-all solution to elevate any gathering! From casual get-togethers to full-on celebrations, our versatile range of bounce houses adds a sprinkle of joy, a dash of energy, and a whole lot of bounce to just about any event you can conjure up.
Family Reunions: Bring the generations together in an atmosphere of unbounded joy.


Corporate Events: Let employees shed their office persona and leap into fun.


Weddings: A great distraction for kids and, let's be honest, some adults too!


Church Events: Foster community spirit with a wholesome day of bouncing around.


School Fairs: Choose our inflatable indoor bounce house Syracuse can rent that will be the talk of the PTA!


Block Parties:Make your street the coolest one in Syracuse with a bounce house bonanza.


Charity Events: Draw a crowd and raise spirits along with funds.


Festivals: Make your festival a hit with the bounce house North Syracuse NY uses to entertain kids and parents alike.


Holiday Parties: Whether it's the 4th of July or New Year's Eve, add some hop to your holidays!

Regardless of the special occasion, we've got the bounce house Syracuse NY knows is the ticket to an unforgettable event bursting with laughter and airborne glee! Browse through our inventory and book a bounce house in Syracuse online today.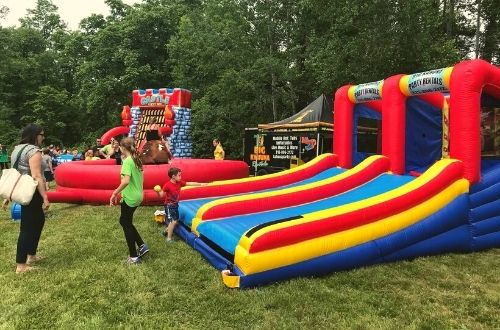 Bounce House Rental Syracuse, NY: A Selection Of Bounce Houses Customers Love
Looking for the best bounce house rental Syracuse, NY has to offer? Look no further than Big Kahuna Party Rentals' bounce houses! Our wide variety of designs and sizes makes these inflatable wonders a one-stop solution for any kind of gathering you've got cooking. From kids' bashes that require the bounce house birthday party Syracuse NY recommends to corporate team-building events and even weddings, our bounce houses infuse a universal language of fun that breaks barriers and invites everyone to jump in, no matter what age! With a Big Kahuna bounce house, you're not just renting a play area; you're creating an epicenter of joy and smiles.
Elevate your party game to soaring heights with our stunning Marble Bounce House! Boasting dimensions of 13' wide, 13' long, and an impressive 14' tall, this inflatable paradise is an eye-catching centerpiece guaranteed to mesmerize both kids and adults. But wait, there's more! Want to customize your bouncy extravaganza? This bouncer features the unique option to attach a banner. Head on over to our "Banners" category and choose one that matches your party theme perfectly. Whether it's a superhero saga or a princess affair, your event will bounce right into the hearts of your guests with our fantastic bounce house rentals near Syracuse NY!
Ahoy, party planners! Set sail for the ultimate adventure with our Pirate Bounce House, where the treasure map leads to unbounded fun! Outfitted with two grand inflatable pirate flags and an entrance guarded by a cannon—yes, a cannon—this is the bounce house for young swashbucklers and seasoned sailors alike. With a starting rental price of just $174.90, you can embark on a wallet-friendly and ship-shaped escapade. Sized at 13' wide, 13' long, and a towering 14' tall, this Pirate Bounce House is one of the best blow up bounce house rental Syracuse NY can depend on for pure amusement. Prepare to launch your party into the stratosphere of excitement, mateys!
Hear ye, hear ye, all princesses and princes of the party realm! Introducing our magical Pink Castle Bounce House, a fairytale fortress designed to make dreams come true. Drenched in a royal palette of pink and lavender, this enchanting abode is as dreamy as it gets. With roomy dimensions of 13' wide, 13' long, and a majestic 14' tall, there's plenty of space for your royal subjects to hop till they drop! Want to take your coronation celebration to the next level? This castle isn't just pretty; it's customizable. Add a banner from our "Banners" category that suits your party's theme, and voilà! Your Pink Castle Bounce House transforms into the kingdom of your choice. Don your crowns and prepare for a day of noble bouncing!
Browse through our options for bounce house Syracuse NY rentals and find the one that will complete your event today!
How To Rent A Bounce House Syracuse NY Can't Get Enough Of
We make it a breeze to rent a bounce house Syracuse NY loves, thanks to our user-friendly online process. Whether you're a pro at party planning or a first-timer, you'll find it super easy to secure the bounce house that'll make your event a hit. Here's how it works:
Choose Your Favorite Bounce House: Browse through our stellar line-up and choose the bounce house that suits your party vibe. Don't forget to check out our other dynamite equipment, including furniture, concessions, and the #1 inflatable water slide rental Syracuse NY has to offer! Add all of the items to your cart.


Select Rental Date and Times: Mark the calendar for when you want the bouncing bonanza to happen. Include your event start and end times, then proceed to the checkout page.


Review Price Before Checking Out: Make sure all your details are spot-on and get a final price before checking out.


Securely Check Out: Input your delivery address, billing information, and any other important details before using any major credit card to submit the required deposit to secure your reservation.



And just like that, you've successfully found a sure way to rent a bounce house Syracuse NY will adore! If you'd rather speak directly with one of our team members, feel free to give us a call at (315) 806-2172, and we'll be delighted to walk you through the process. Get started now and make your next party unforgettable with our amazing selection.
Delivering the Syracuse NY Bounce House Kids And Parents Love
Our team couldn't be more thrilled to bring our Syracuse NY bounce house options to our community across Central New York. We're not just a business; we're your neighbors, and we're committed to bringing safe, high-quality bounce house rentals to your events. Our service area is vast, covering the 13201, 13202, 13203, 13204, 13205, 13206, 13207, 13208, 13209, 13210, 13211, 13212, 13214, 13215, 13217, 13218, 13219, 13220, 13221, 13224, 13225, 13235, 13244, 13250, 13251, 13252, 13261, and 13290 zip codes in Onondaga County. We're happy to offer delivery to Oswego, Onondaga, Oneida, Jefferson, Cayuga, and Wayne counties. Whether you're in the heart of the city or on its outskirts, we're here to bring the party to you!
Not only are we privileged to serve local residents, but we're also proud partners with the Syracuse City School District, helping to add an extra layer of fun to educational and sporting events. We make it so there is no longer any need to continue to search for "bounce house rentals near me Syracuse NY." We understand how crucial community is, and we're committed to being more than just a service—we aim to be a partner in creating memorable experiences.
What makes Syracuse unique? It's the local landmarks and parks that serve as community meeting spots. Whether you're planning to visit the majestic Everson Museum of Art, catch a game at the Carrier Dome, or enjoy a day at Onondaga Park, Burnet Park, or Thornden Park, why not include a bounce house rental to make it an extra special occasion? With our team, your Syracuse NY bounce house is sure to be a hit right here in the heart of Syracuse.
FAQs About the Cheap Bounce House Rentals Syracuse NY Uses Year-Round
Learn more about our high-quality cheap bounce house rentals Syracuse NY can't get enough of by browsing our FAQs section below. If you have any additional questions, feel free to give us a call at (315) 806-2172.
Reviews for the #1 Bounce House Rentals Syracuse, NY Has to Offer
Our team takes delivering the bounce house rentals Syracuse, NY knows and loves seriously. That's why, with our premium services and stellar customer service, we have consistently garnered praise from our customers. They continue to rave about the inflatable bounce house rental Syracuse NY can trust and look for our company to provide their event with truly wonderful memories. We take pride in being the best and delivering the best, and we look forward to using our bounce house rentals to spread joy to more and more customers. Don't just take our word for it! Read through our glowing reviews from previous customers, and come experience our 5-star rated service for yourself!