Waterslides

Our base price is based on a 6 hour rental period, you can order it for a longer time period or even overnight but it affects the price.
Inflatable Water Slide Rental Syracuse NY
For the best inflatable water slide rental Syracuse NY has to offer, look no further than Big Kahuna Party Rentals! We have you covered with fantastic waterslide rentals of all varieties. We're confident our exciting selection will bring a splashing good time to any event. Customers looking to add a little extra excitement to their upcoming get-together can't go wrong with one of our premier water slides in Syracuse, New York .
Not only are these water slides exhilarating and jaw-dropping, but they're also completely safe for most ages. As much focus as we put on the fun, we make sure that safety comes first. That's why we have each of our water slides tested, inspected, and sanitized before and after each rental. We check for any rips, tears, or air bubbles and make sure these hiccups don't affect your rental in the slightest. We want our customers to have a great time, and rest assured that we deliver the inflatable water slide rental Syracuse NY parents can trust and kids will love.
We work tirelessly to offer the best inflatable water slide rental Syracuse NY can provide, and we take our jobs very seriously. Customers are treated like family, and we strive to exceed expectations with each and every rental. Choose Big Kahuna Party Rentals for a splashing good time and be amazed at our service, selections, and slides! Book online today or give our team a call at (315) 806-2172 to get started.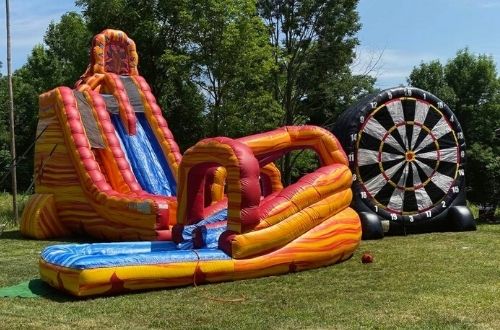 The Water Slide Rental Syracuse NY Can Use For Any Event
We've got the water slide rental Syracuse NY uses to elevate the excitement at your event. Big Kahuna Party Rentals' water slides are the ultimate game-changers and the secret weapon to ultimate fun. Dynamic, exhilarating, and boundlessly refreshing, our water slides aren't just attractions – they're the catalysts for creating unforgettable moments. Take a look at some of the reasons you can rent water slides in Syracuse NY and book online:
Birthday Parties: Beat the heat and make a splash with a Syracuse water slide rental that turns a birthday bash into a wet and wild adventure.


Family Reunions: Add a thrilling twist to family gatherings, bringing generations together for a day of water-soaked joy.


Community Pool Parties: Rent a water slide in Syracuse NY to transform community events into aquatic celebrations with the excitement of a water slide.


School Field Days: Elevate school festivities by incorporating a water slide for thrilling and refreshing play.


Church Summer Camps: Create unforgettable summer memories for kids by combining faith and fun with our cheap water slide rental Syracuse NY knows and loves.


Neighborhood Block Parties: Turn your street into a water wonderland, delighting neighbors of all ages.


Festival Extravaganzas: Draw crowds and beat the summer heat at festivals with the irresistible allure of water slides.


Graduation Pool Parties: Give graduates a memorable send-off as they slip and slide into the next chapter of their lives.


Sports Team Celebrations: Let young athletes cool off and unwind after a game with the exhilaration of water slides.


Holiday Splash Fests: Turn any holiday into a refreshing celebration by adding an adult water slide rental Syracuse NY can use for any occasion.



No matter what the occasion is, our water slides are the epicenter of aquatic fun, spreading laughter, joy, and a refreshing thrill that will be remembered long after the sun sets. Browse through our selection of high-quality slides and book yours today for limitless fun!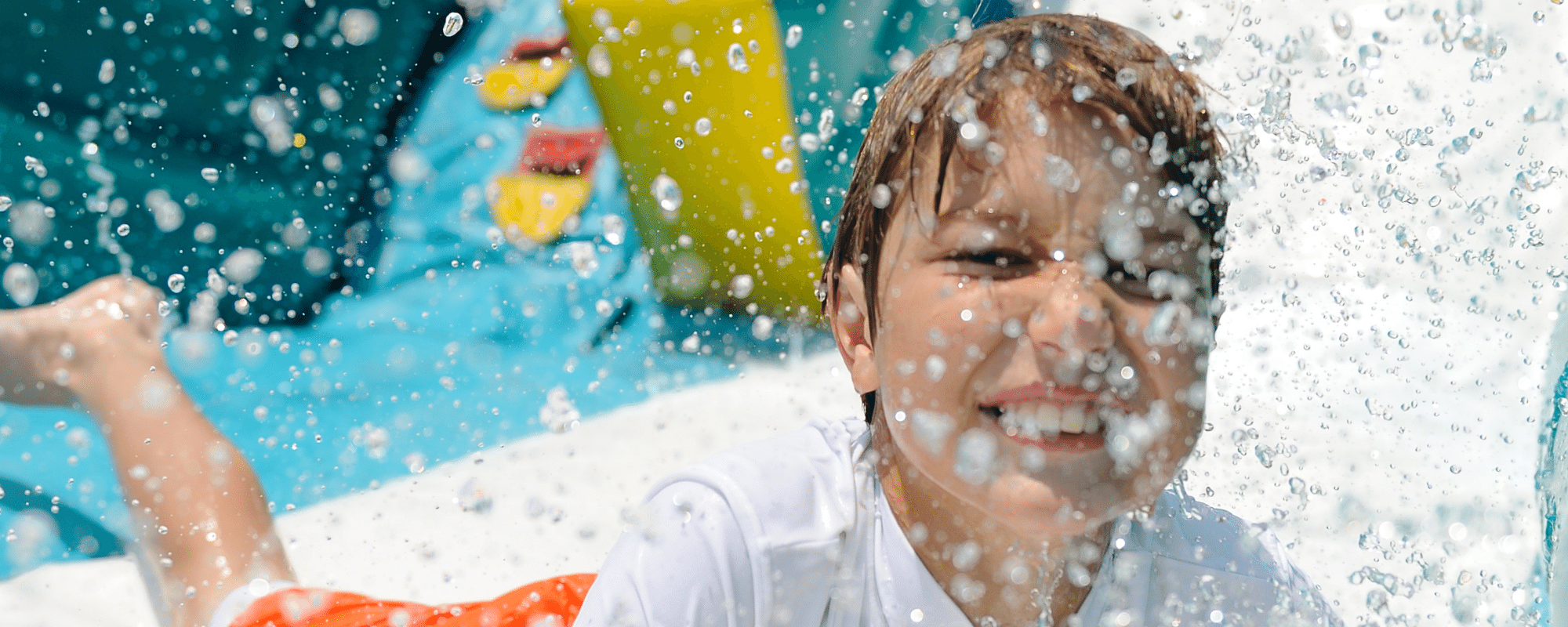 Browse Our Selection and Find the Water Slide Rental Syracuse New York Can't Get Enough Of
We have the #1 water slide rental Syracuse New York has to offer! Dive into a world of aquatic adventure with Big Kahuna Party Rentals' extensive range of water slide rental options. We take your water-themed festivities to the next level with a variety that caters to every preference and event size. From towering slides that send you on a thrilling journey to splash pools that promise refreshing landings, our collection is designed to make a splash on any occasion. Whether you're hosting a summer birthday bash, a community pool party, or a corporate event that needs an extra dose of excitement, our diverse selection ensures that there's a perfect water slide for every celebration. Get ready to turn up the fun and create memories that are as refreshing as they are unforgettable!
Prepare for an eruption of excitement with our Lava Rush Water Slide—a true masterpiece that brings the thrill of volcanic adventure to your event! This is the kids water slide rental Syracuse NY parents will love too. With its striking lava red slide and realistic grey rock color scheme, this slide is more than just an attraction—it's a journey into the heart of a volcano. From the moment you ascend to the peak, the anticipation builds, and then it's a heart-pounding rush down the fiery-red slope straight into the refreshing splash pool. The Lava Rush Water Slide isn't just an experience; it's an expedition, complete with a sense of awe and exhilaration. Starting at an affordable rental price of $416.90, this slide guarantees an eruption of fun that will make your event an absolute hit. Get ready to unleash the excitement and take your guests on a watery adventure they'll remember for years to come!
The Emerald Rush Water Slide isn't just a ride; it's a journey through lush greens and swaying palms, bringing the essence of a paradise oasis to your event. Standing tall at 22 feet and stretching 38 feet in length with a width of 14 feet, it's an impressive spectacle that promises an exhilarating splashdown. But here's the best part: you don't need perfectly level ground for this aquatic adventure. Setup is a breeze, and with just 4 feet of additional space for the two outrigger stakes, you'll have this paradise-inspired slide ready to delight your guests in no time. Starting at just $526.90, the Emerald Rush Water Slide guarantees an unforgettable voyage into a world of fun and excitement that will make your event the highlight of the season.
Get ready for the ultimate aquatic adventure with our Giant Blue Crush Water Slide! This colossal masterpiece boasts a regal royal blue and vibrant green color scheme, complete with four majestic inflatable palm trees that stand as guardians of excitement. With not one, not two, but four water slide lanes, your guests can engage in thrilling races, each culminating in a breathtaking splashdown into a large, refreshing pool. Standing tall at an impressive 27 feet and stretching 68 feet in length with a width of 28 feet, this slide is a behemoth of enjoyment. The Giant Blue Crush Water Slide is more than just a ride; it's an experience that transforms any event into a water wonderland. This slide is an investment in unforgettable memories and boundless fun. Get ready to conquer the waves of exhilaration and take your event to soaring new heights
How to Book our Syracuse NY Water Slide Rental Online Today!
We make it easy to reserve our Syracuse NY water slide rental for your next event with our convenient online booking system. Whether you're a pro at throwing parties or just getting your feet wet, you'll find it seamless and stress-free to book the spectacular entertainment your event needs with Big Kahuna Party Rentals! To really make a splash, rent one of our water slides online by following the steps below:
Choose Your Water Slide: Plunge into our thrilling selection and select the rental water slide in Syracuse NY that has your name written all over it.


Pick Your Rental Date and Times: Pick the day you would like all the water fun to start. Choose your rental timeframe to receive an accurate rental quote.


Review the Price Before Checking Out: Take a moment to look over our water slide rental prices in Syracuse NY and the grand total including tax before you commit.


Securely Check Out: Once all of the details are good to go, input your billing and delivery information, then safely check out using any major credit card. You'll receive a confirmation email with a digital copy of your receipt.



You can throw a wild and wonderful party with our Syracuse NY water slide rental that will leave your guests smiling with Big Kahuna! Give our team a call at (315) 806-2172 if you'd prefer to work directly with one of our staff members to reserve your water slide. Get ready for a spash-tastic time for all!
We Have The Best Water Slide Rental Near Syracuse NY
Big Kahuna Party Rentals takes immense pride in delivering our water slide rental near Syracuse NY. We're more than just a rental service; we're your neighbors, committed to bringing endless waves of joy and laughter to your events. Our delivery area extends across Central New York, spanning the 13201, 13202, 13203, 13204, 13205, 13206, 13207, 13208, 13209, 13210, 13211, 13212, 13214, 13215, 13217, 13218, 13219, 13220, 13221, 13224, 13225, 13235, 13244, 13250, 13251, 13252, 13261, and 13290 zip codes. Whether you're nestled in the heart of the city or on its outskirts, we're dedicated to making your events memorable and fantastic. Our delivery extends across Oswego, Onondaga, Oneida, Jefferson, Cayuga, and Wayne counties, ensuring everyone in surrounding areas has the opportunity to host fun-filled events, no matter where they're located.
As proud partners of the Syracuse City School District, we're passionate about enriching educational and community-focused events. Customers searching for "water slide rental near me Syracuse NY" should know that we understand the significance of a strong community bond, and we're committed to ensuring that your events, big or small, radiate with excitement. And speaking of community, why not enjoy the abundance of nature and culture that Syracuse offers? From the picturesque landscapes of Onondaga Park, Burnet Park, and Thornden Park to the cultural treasures at The Everson Museum of Art, the electric atmosphere of The Carrier Dome, and the historic charm of Clinton Square, our water slides are just one element of the unforgettable experiences Syracuse has to offer. With Big Kahuna Party Rentals, you're not just renting a water slide rental near Syracuse NY; you're investing in a shared journey of community, joy, and celebration that binds us all.
FAQs About the Blow Up Water Slide Rental Syracuse NY Can Depend On for Endless Fun!
Have questions about the blow up water slide rental Syracuse NY can't get enough Of? Our FAQ section for water slide rentals has you covered! Take a look at a selection of our frequently asked questions below, and get in touch with our team if you need more details.
Definitely. As your one-stop party rental provider, we have everything you need to host a fantastic and fun-filled event, including inflatables, interactive games, concessions, and the tent rentals Syracuse NY has to offer!
See What Our Customers Are Saying About the Giant Water Slide Rental Syracuse NY Knows and Loves
At Big Kahuna Party Rentals, we've got the giant water slide rental Syracuse NY is giving glowing 5-star ratings! We're not just in the business of rentals; we're in the business of making memories, and our customers' smiles are our most prized achievements. From the moment you choose us for your event, we're dedicated to ensuring every detail is perfect. Our top-notch customer service, meticulously maintained equipment, large water slide rental Syracuse NY kids adore, and our commitment to safety and satisfaction are what keep our loyal customers coming back for more splash-tastic adventures. But hey, don't just take our word for it—dive into the sea of 5-star reviews from our cherished patrons and experience the Big Kahuna difference for yourself. Your satisfaction is our ultimate reward, and we can't wait to make your event unforgettable!