Tent Rentals Syracuse NY
Step into a world of tent rentals Syracuse NY can depend on with Big Kahuna Party Rentals! We're in the business of crafting magical event experiences with top-quality equipment and service that doesn't disappoint. Tents, tables, and chairs aren't just party-hosting essentials; they're the building blocks of your dream gathering. Whether you're planning a casual family barbecue or a grand corporate gala, our party tent, table, and chair rentals in Syracuse, New York , are the secret ingredient to a sensational celebration. Get ready to elevate your event game the Big Kahuna way!
What sets our team apart is our dedication to your event's vision. We're not just renting out tents, tables, and chairs; we're co-creators of your event story. Our extensive selection of tents comes in various sizes and designs, ensuring a perfect fit for every occasion. And when it comes to seating, our range of tables and chairs adds both comfort and elegance to your setup. But we're not stopping there. Our user-friendly website lets you explore our offerings, check out prices, and secure your chosen pieces with just a few clicks. The moment you choose our professional team, your journey to an unforgettable event begins.
Choosing our locally-owned company isn't just a transaction; it's an investment in an experience that blends creativity, fun, and convenience. Our tents aren't just temporary shelters; they're canvases waiting for your personal touch. From vibrant decorations to cozy seating arrangements, we're here to bring your vision to life. With a reputation for turning ordinary events into extraordinary moments, our team is your partner in tent rentals Syracuse NY can be used for celebrations that will be remembered for years. Let's make it extraordinary under a Big Kahuna tent with perfectly placed tables and chairs, whether you're hosting an elegant dinner or a lively party. Let's elevate your next event and create a memorable experience for all!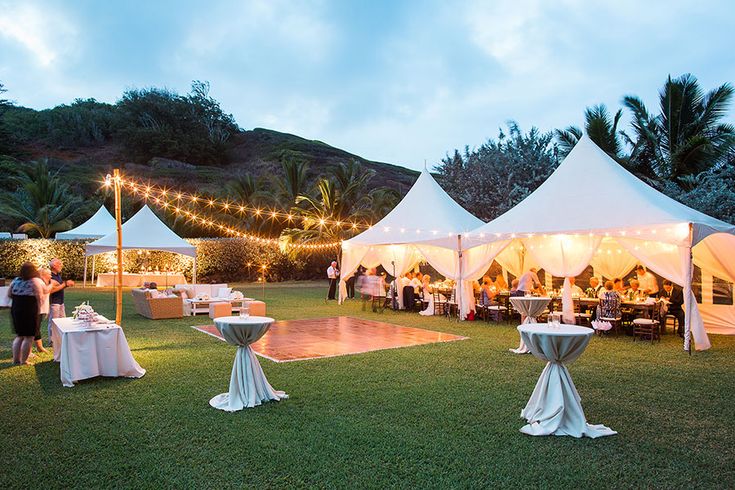 The Perfect Party Tent Rentals in Syracuse NY For Any Event
Transform your event into an enchanting haven with our party tent rentals in Syracuse NY. Our tents are more than just coverings; they're gateways to a world of endless possibilities. From intimate gatherings to grand celebrations, our tents offer a blank canvas ready to host your unique event vision. The perfect blend of elegance and functionality, our party tent rentals elevate any occasion, making it an unforgettable affair no matter the size or theme.
Outdoor Weddings: We've got tent rentals Syracuse, NY uses to create a romantic atmosphere under the stars. Rent from us to receive a beautifully adorned tent that sets the stage for your big day.


Corporate Galas: Transform an ordinary space into a sophisticated corporate affair, complete with stylish seating and exquisite decor.


Family Reunions: Provide a comfortable gathering space for relatives to reconnect with our Syracuse NY tent rentals. Share stories, play games, and enjoy each other's company while being shaded from the elements.


Festivals and Fairs: Offer a shaded retreat for attendees to rest, recharge, and take in the festivities.


Birthday Bashes: Turn your backyard into a celebration hotspot with a tent that shelters guests from the elements while keeping the party going.


Community Events: Enhance community events with our big tent rentals in Syracuse NY that provide a space for presentations, performances, and community engagement.


Outdoor Markets: Create a cozy marketplace where vendors can showcase their wares, rain or shine.


Graduation Parties: Host a memorable graduation celebration with a tent that provides a festive ambiance for graduates and guests.


Anniversary Celebrations: Elevate milestone celebrations with elegant tables and tent rentals in Syracuse NY that set the stage for cherished memories.


Picnics and Barbecues: Set up a shaded dining area that encourages guests to enjoy good food and company without worrying about the weather.
Our party tent rentals in Syracuse NY add a touch of magic to each of these events, providing both shelter and style. Imagine a wedding ceremony under the shade of a tent adorned with billowing fabric and delicate flowers. With our team, your event is poised to become an extraordinary affair, no matter the occasion. Don't forget to check out our Syracuse party rentals to ensure your event is non-stop fun from start to finish!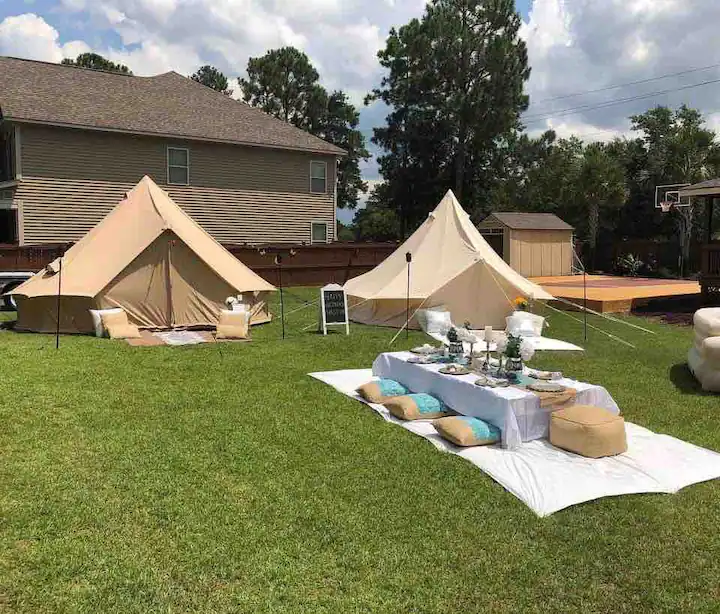 A Wide Variety Of Chair Rentals Syracuse NY Can Select From
At Big Kahuna Party Rentals, we've got the chair rentals Syracuse NY uses to add a dash of comfort and style to events, ensuring that every seat becomes a cozy and inviting spot. From elegant designs fit for upscale gatherings to versatile options perfect for casual affairs, our collection caters to a range of tastes and preferences. Whether you're aiming for a classic look or a modern vibe, our diverse selection of chair rentals allows you to curate the perfect ambiance for your event. With attention to quality and aesthetics, we're here to make sure that every guest finds a seat that not only suits their taste but also enhances the overall aesthetics of your occasion.
Looking for timeless and practical chair rentals Syracuse area can depend on? Look no further than our Simple White Folding Chairs! These versatile chairs are the epitome of convenience, combining an effortless setup with a clean and classic design. Whether you're hosting a casual outdoor gathering or an indoor event, these chairs seamlessly blend in with any decor. Plus, with a rental price of just $1.99 each, you can provide comfortable seating for your guests without breaking the bank. Elevate the comfort of your event without compromising on style with our Simple White Folding Chairs.
When sophistication meets comfort, you get our White Resin Chairs. These chairs are the embodiment of elegance, featuring a sleek design that's perfect for weddings, corporate events, and upscale gatherings. Crafted with attention to detail, these chairs offer not only visual appeal but also ergonomic comfort. These are some of the best chair rentals in Syracuse area, and their durability and chic appearance make them a top choice for events where style matters. With a rental price of $3.45 each, you can add a touch of refinement to your occasion without compromising on quality or aesthetics.
Our Gold Chiavari Chairs are elegant and luxurious. These chairs are a favorite for high-end events, galas, and formal occasions. The intricately designed frame and gold finish make a bold statement that's sure to leave a lasting impression on your guests. Crafted for both comfort and beauty, these chairs offer an unmatched experience. At $8.99 each, these chairs are an investment in elegance that elevates the ambiance of any event, ensuring that your guests are seated in regal splendor.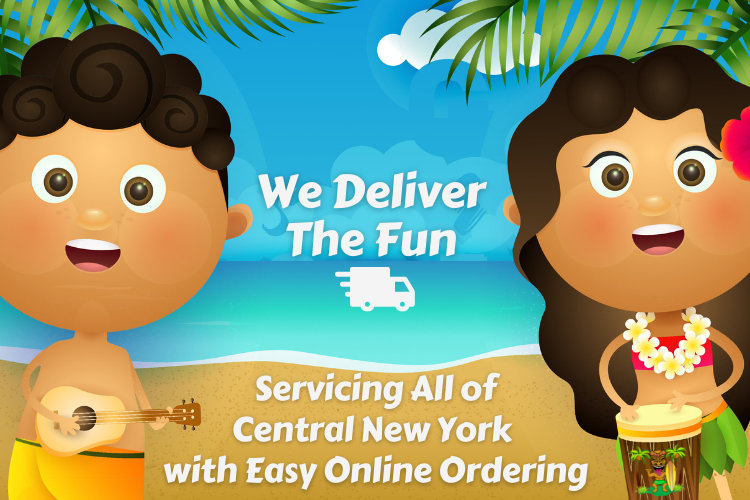 Table Rentals Syracuse NY Recommends For a Perfect Evening
We've got the table rentals Syracuse NY chooses to ensure everyone has a comfortable spot to eat, commune, and enjoy the festivities. Whether you're envisioning a cozy family gathering or a grand corporate gala, our collection has the perfect table to set the stage for your event. From classic to contemporary, our tables come in a variety of shapes, sizes, and styles to match your theme and preferences. Crafted with both aesthetics and functionality in mind, we've got the table rentals Syracuse New York knows provide the foundation for memorable moments and conversations. With our range of options, you can curate the ideal setup that complements your event's unique atmosphere.
Elevate your event with our 60-inch White Round Table, a timeless centerpiece that brings people together in style. Its circular design encourages easy conversation and interaction, making it a perfect match for our cheap tent rentals in Syracuse NY. This table rental works for weddings, family reunions, and social gatherings. The crisp white surface serves as a blank canvas for your creativity, allowing you to adorn it with elegant linens and centerpieces that match your event's theme. With a budget-friendly rental price of just $11.99 each, you can bring elegance to your occasion without compromising on quality or affordability. Let your guests dine, laugh, and celebrate around the beauty of our White Round Tables.
Efficiency meets versatility with our 8-foot Rectangle Table, a workhorse that's ideal for banquets, seminars, and larger gatherings. With its generous surface area, this table provides ample space to fit inside the large tent rentals Syracuse NY used for presentations, displays, and communal dining. Its sleek design allows it to seamlessly blend into various settings, from corporate events to family picnics. Crafted for both durability and style, our 8-foot Rectangle Table offers a sturdy platform for your event's needs. At an affordable rental price of $9.99 each, you can create functional and well-organized spaces that cater to your guests' comfort and convenience.
For those seeking rustic elegance, our 72-inch Wooden Round Table is a stunning option that adds warmth and charm to any event. Crafted from high-quality wood, this table boasts a natural beauty that complements outdoor weddings, garden parties, and nature-inspired gatherings. The smooth surface is perfect for showcasing intricate tablescapes, centerpieces, and decor that resonate with the theme of your event. Priced at $15.99 each, these Wooden Round Tables are an investment in both style and substance, providing a focal point that brings a touch of the outdoors to your celebration.
How To Book The Party Tent Rentals Syracuse Recommends Online
Booking the dream party tent rentals Syracuse adores with our team is as easy as a gentle ocean breeze. Our seamless online booking process ensures that your event planning journey is smooth and stress-free. Here's how you can secure your party tent rental in just a few simple steps:
Find the Perfect Party Tent Rentals: Begin your adventure by choosing the party tent rental option that suits your event's needs, including the wedding tent rentals Syracuse NY couples depend on!


Select Your Rental Date and Time: Choose the date and timeframe you're planning to host your event.


Review Details: Take a moment to review the affordable tent rentals Syracuse NY has to offer and the pricing details of your rental before you proceed to the checkout. It's your opportunity to make sure everything's just right.


Check Out With Ease: Once you've added everything to your cart, fill in billing and delivery information and use any major card to securely check out. You'll receive a digital copy of your receipt via a confirmation email from our team and be all set!



With these easy steps, you'll be well on your way to securing the perfect party tent for your upcoming event. If you'd rather book a tent rental over the phone, feel free to give us a call at (315) 806-2172 to speak directly with one of our team members. Get ready to celebrate with the party tent rentals Syracuse prefers and make your occasion an unforgettable one!
Providing Stellar Tent Rentals Near Syracuse NY
Our team is proud to deliver our tent rentals near Syracuse NY and the surrounding areas of Onondaga County. We're deeply rooted in the vibrant communities of Central New York, and we take immense pride in delivering party tent rentals that not only provide shelter but also help create moments of joy, connection, and celebration. Our reach extends across these zip codes: 13201, 13202, 13203, 13204, 13205, 13206, 13207, 13208, 13209, 13210, 13211, 13212, 13214, 13215, 13217, 13218, 13219, 13220, 13221, 13224, 13225, 13235, 13244, 13250, 13251, 13252, 13261, and 13290. From the heart of the city to its outskirts, we're dedicated to being the go-to choice for turning events into unforgettable memories, no matter where you are in Oswego, Onondaga, Oneida, Jefferson, Cayuga, and Wayne counties.
Because of our affiliation with the Syracuse City School District, we appreciate the value of community involvement and the impact it can have on students' development and the district's sense of belonging. Beyond providing rental services, our ultimate goal is to become a vital part of the Syracuse community. When they work with us, customers no longer need to search for "tent rentals near me Syracuse NY." While we can help you transform any space with one of our party tents, we highly recommend getting out and seeing all that this remarkable city has to offer. Whether it's the tranquility of Onondaga Park, the green spaces of Burnet Park, or the artistic inspiration at the Everson Museum of Art, Syracuse offers a rich tapestry of experiences. Not to mention the iconic landmarks like The Carrier Dome and Clinton Square that define the city's spirit.
When you rent a party tent from us, you get so much more than just tent rentals near Syracuse NY—you get a sense of belonging and community. We are overjoyed to have contributed to the rich history of Syracuse by funding and participating in landmark festivals and other events that capture the spirit of this dynamic metropolis. Big Kahuna Party Rentals provides not just a tent but a taste of Syracuse, whether you are in the city's central business district or the suburbs.
FAQs About Our Tent Table and Chair Rentals in Syracuse NY

Do you have questions about our tent table and chair rentals in Syracuse NY? Look no further than our FAQs section for answers to commonly asked questions. Here are a few you might find helpful:
Trust our FAQs section to answer any questions you may have about our tent table and chair rentals in Syracuse NY.
Reviews for the Best Table and Chair Rentals in Syracuse NY
Our table and chair rentals in Syracuse NY consistently earn those coveted 5-star ratings, which our team is immensely proud of. This is a result of our unwavering commitment to making your events absolutely unforgettable. We don't just deliver party rentals; we deliver experiences that leave smiles on faces and memories that last a lifetime. Our secret ingredient? It's the fusion of our top-notch equipment, dedicated service, and a sprinkle of that Big Kahuna magic that turns ordinary gatherings into extraordinary celebrations. From the moment you choose us, you become a part of our ohana (family), and your satisfaction becomes our ultimate mission. We're not just here to meet your expectations; we're here to exceed them. So, whether it's a thumbs-up for our seamless booking process, a high-five for our top-quality rentals, or a virtual hug for our customer support team, our 5-star ratings are a testament to the joyful moments we help create. Dive in, join the party, and discover why our loyal customers keep riding the wave of exceptional experiences with Big Kahuna Party Rentals!